Who's Who Nominations are Closed
Who's Who Nominations for Fall 2014 are currently closed. Thank you for sending in your nominations! Please be on the lookout for Phalanx, White Key, & Darrin Award Nominations, which will open on November 10, 2014.
Who's Who Nominations Open!
It is an honor to be named to Who's Who Among Students in American Universities and Colleges. Since 1934, the National Who's Who program has recognized outstanding campus leaders for their achievements. Nominations for Who's Who will close on Friday, October 24 at 11:59pm.
Fall 2014
The Fall semester has begun and Phalanx members are back in the swing of things. We are very much looking forward to a great semester!
Newest Members
Congratulations to the newest members of Phalanx, Honorary Phalanx, and White Key! The inductees include:
Phalanx: Emily Ackerman, Stephen Bennett, Elise Budd, Ian Colwell, Michelle Denny, Nimit Dhulekar, Christina Gilliland, Christopher Heinbokel, Brendan Howell, Richard Manz, Jeffery Morton, Melanie Mosinski, Emily Nebiolo, Oskari Rautiainen, Thomas Thayer, Carla Toland, Paige Townsend, Hannah Trasatti, Vienna Yee, and Zhen (Jackson) Zhang
Honorary Phalanx: Arthur Gajarsa and Jim Knowlton
White Key: Daniel Bruce, Kenneth Campbell, Elizabeth Castro, Carolyn Chlebek, Maggie Cullather, Kelly Dearborn, Trent DeVerter, Andrew Ehlers, Emily Farella, Soraya Fouladi, Raymond Jacobson, Katie McGuigan, Brian Michalka, Alli Morgan, Ryan Moriarty, Kyle Neumann, Gavin Noritsky, Morgan Schweitzer, Paige Trasatti, Joseph Vantassel, and Shamus Wheeler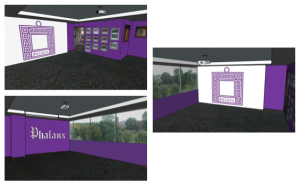 Current Phalanx Projects
Take a look at Phalanx's current projects! Including a renovation of the Phalanx Room in the RPI Student Union, the creation of a White Key Society pin, and the creation of a new Phalanx Flag.
Order your Member Pin
Lost, misplaced, or never received your membership pin? The pin is an enduring and recognizable symbol for our honor society. Phalanx pins are available by request for any Phalanx Alumni for $20 which includes shipping. At the same price, White Key pins are available to any inductees of the White Key Society. Order by contacting Phalanx at phalanx@rpi.edu
Keep in touch
Join our social media groups to keep in touch with members and events:
Facebook
LinkedIn