Congratulations!
Thank you everyone for coming to welcome our new inductees into White Key, Phalanx, and Honorary Phalanx! We hope everyone had a fantastic time.
We would like to also welcome Mr. Charles Carletta (H061) as our new Phalanx advisor. He has been an amazing source of guidance for Phalanx, and we are thrilled at the opportunity to continue working with him.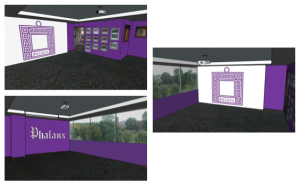 Current Phalanx Projects
Take a look at Phalanx's current projects! Including a renovation of the Phalanx Room in the RPI Student Union, the creation of a White Key Society pin, and the creation of a new Phalanx Flag.
David M. Darrin '40 Counseling Award Nominations Open
Submit a recommendation for a professor who has made an unusual contribution in the counseling of undergraduate students. Submit here.
Order your Member Pin
Lost, misplaced, or never received your membership pin? The pin is an enduring and recognizable symbol for our honor society. Pins are available by request for any Phalanx Alumni for $20 which includes shipping. Order by contacting Phalanx at phalanx@rpi.edu
Keep in touch
Join our social media groups to keep in touch with members and events:
Facebook
LinkedIn