Josephine Lyons #1602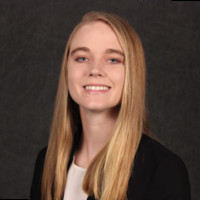 Phalanx Honor Society Member
Degree(s)
B.S. in Computer Science and Mathematics, 2019
M.S. in Information Technology, 2020
About Me
While at Rensselaer, I have been involved in many organizations and held several roles in RPI's Student Government. I first served as the Class of 2020 Vice President, and then shifted roles becoming the Class of 2020 President, then later the Undergraduate President, and finally a Graduate Representative and Graduate Council Treasurer. In each of these roles, I have found a unique way to represent my respective group and to help provide traditions and activities for them in their time at Rensselaer.
I have also represented RPI through sports. Since my freshman year, I have been a member of the Varsity Women's Soccer team as well as the Varsity Track and Field team. Through athletics, I have been able to represent my school by showcasing the talents of myself and my teammates.
I have also been involved with other clubs on campus including the Fellowship of Christian Athletes, becoming one of the Captains where I help organize and lead weekly worship events. I am a member of the National Society of Leadership and Success as well as a member of Sole Survivors.