Lauren Gandy #1654
Phalanx Honor Society Member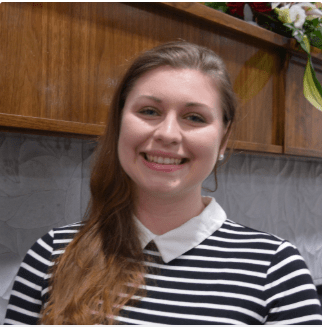 Degree(s)
Ph.D. in Chemistry, 2023
About Me
I first became involved on campus as a member of the American Chemical Society Eastern New York Younger Chemists Committee and a member of the 2018 Rensselaer Graduate Research Symposium organizing committee [https://info.rpi.edu/professional-development/graduate-research-symposium-grs-three-minute-thesis-3mt].
I served as Graduate Council Secretary and Graduate Senator from 2018-2019 [https://sg.rpi.edu/gc_history#members], and the following year as Graduate Senator and Graduate Council President [https://sg.rpi.edu/people/gandyl], including an extended appointment as RPI transitioned online during the first COVID-19 shutdown. As President, I focused on increasing communication and clarifying financial issues between Rensselaer administrators and graduate students, partnered with OGE to define vacation and sick leave policies for graduate students, and organized large-scale social events.
I founded the Graduate Women in Science [https://www.gwis.org/] New York Capital Region Chapter in 2020 and have served as the Chapter President for two years. Our activities include an online assistance hotline for grad school apps and creating infographics of influential women scientists for Women's History Month. This has culminated in a collaboration with RPI Society of Women Engineers and Rensselaer Women in Physics to host a conference for networking, professional development, and career inspiration from women in academic, government, non-profit and industry sectors.
LinkedIn: https://www.linkedin.com/in/lauren-gandy-14188193/