Samantha Bliss
Phalanx Honor Society Member, White Key Recipient 2015
Degree(s)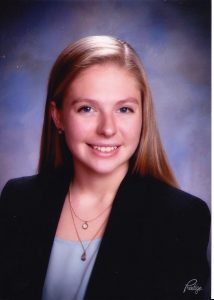 B.S. in Environmental Engineering, May 2017
M.S. in Environmental Engineering, Dec. 2017
About Me

During my time at Rensselaer, I have strived to excel academically in my coursework, be an influential and contributing member of design and research projects with faculty members, and leave my mark as a member of the campus community through my extracurricular activities. I have chosen to pursue both my Bachelor's and Master's of Science degrees in Environmental Engineering through the Co-terminal Degree Program which has afforded me the opportunity to lead my own research and design project within the Department of Civil and Environmental Engineering. I was inducted into the Chi Epsilon Civil and Environmental Engineering Society in Spring 2016 in recognition of my academic achievements.
In addition to my coursework and research, I have continued my involvement as a leader in the Greek Community. Fraternity and Sorority Life has been incredibly influential in my development and success at Rensselaer. I joined my sorority, Alpha Phi as a first-semester freshman and held my first leadership position almost immediately after initiation. Most recently, I served as our Director of Chapter Events, organizing social activities with a risk-reducing, and values-centered agenda.
External to my own sorority chapter, I became involved in the Rensselaer Panhellenic Council, the governing council of all sororities on campus. This past year, I chaired the Panhellenic Council as Council President and worked to advocate for the Greek Community through close communication and cooperation with the Office of Greek Life Commons and RPI Administrators.
I was inducted to the RPI Chapter of Order of Omega, the Greek Leadership Honor Society, in Spring 2016 in recognition of my service and leadership to the Greek Community.
I also am involved in professional leadership organizations on campus including the Society of Women Engineers and RPI Engineering Ambassadors. As an Engineering Ambassador, I work as part of an outreach team of engineering students to visit middle and high school classrooms to inspire younger students to pursue careers in engineering fields.