Emily McNee #1675
Phalanx Honor Society Member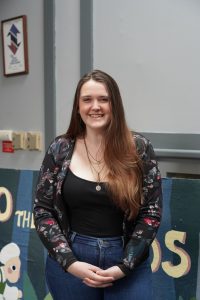 Degree(s)
B.S. in Games and Simulation Arts and Sciences, 2024
B.S in Music, 2024
About Me
I have been highly engaged during my time on and off campus through a multitude of academic and extracurricular experiences. I am an active face in the game development community, having been President of RPI's Game Dev Club for three years. During my term, I have reinvigorated the club, having helped organize monthly game jams, guest speakers and special activities, and collaborating with many outside entities to do so. Our foremost goal is to make our club offerings accessible and welcoming to everyone in the community, something I have consistently strived for as President. Most recently, we revived the annual Rensselaer Game Showcase (RGS), a celebration of creativity and innovation with 50+ students showing off their video games. We also brought in local game studios and developers as part of this event.
I have led countless talented game development teams in my free time and in class. One such game, Veni, Vidi, Vici, won the Excellence in Design category at GameFest 2022. We were also nominated for the Excellence in Audio award, which I spearheaded. The game was selected to represent RPI at the New York State Pavilion at the Game Development Conference (GDC) 2023 in San Francisco.
I have also dedicated a large portion of my time to RPI Players. I am a very active member, acting in numerous roles, including Assistant Director (Heathers), Performer (Into the Woods, Sideshow), Events and Publicity Committees Member, and ongoing Front of House Manager. I am also a member and chapter historian of the Alpha Psi Omega theater honor society, Delta Xi Chapter.
LinkedIn: https://www.linkedin.com/in/emily-mcnee-594608214/