Madeline Steinmetz
White Key 2017
Degree(s)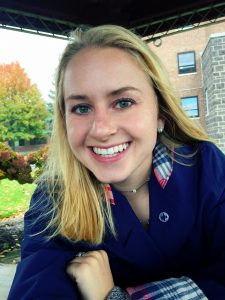 B.A. in Architecture, 2020
About Me

As an architecture student at Rensselaer, I spend many hours in the Greene Building working away in studio. At RPI, I have the opportunity to break away from my architectural studies and be a part of something outside the academic realm. For a few hours a day I am not an architecture student, but a member of the women's varsity soccer team. This team has enabled me to grow as a leader on and off the field.
During the fall of 2015 season, I received the award "Rookie of the Year" by demonstrating a leadership role on the field. This role carried over to the spring of 2016 season where I served as a freshman representative for the women's soccer leadership committee. For the fall of 2016 season as I was selected to be a team captain. I ran team warm ups for practices and games in order to prepare the team for upcoming matches. In both the fall 2015 and 2016 seasons, I received a Liberty League honorable mention for my efforts on the field. As for the current spring season, I am in charge of scheduling, organizing, and running team practices that are independent from our regular spring season.
My involvement with soccer has lead me to become founding member of the Architecture and Athletics Association. This organization encourages architecture students to become more active in the school community by attending sports games. Additionally, the association enables incoming freshman to know it is possible to study architecture and be on a varsity sport.