Sanjana Davuluri
White Key 2018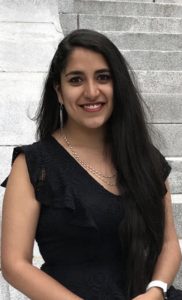 Degree(s)
B.S. in Bioinformatics & Molecular Biology, 2020
About Me
I am involved in leadership positions in a variety of organizations and activities on campus. I joined the Indian Students Association (ISA) and RPI Sangam to bring more cultural diversity to the campus. Last year, I joined as Freshman Representative of ISA and acted as a liaison between the freshman class and the e-board. This year, I served as Secretary and managed administrative tasks. On Sangam, RPI's competitive classical Indian dance team, I served as Treasurer and managed our newly-acquired budget, and helped my team compete in our first national competition. Additionally, I joined the Academic Affairs Committee, a subcommittee of the Student Senate that is responsible for academic-related issues around campus. I have been working on projects to create a holiday for the annual Career Fairs and improve the Summer ARCH program through student and professor-based feedback.
I am also very passionate about helping people. As a mentor in the Biology department, the Calculus I i-PERSIST mentor program and the Women's Mentoring Program, I helped incoming freshmen get accustomed to RPI by teaching them various skills and spreading awareness of the resources available on campus. I also assisted them in developing their knowledge in core classes through review materials and exam review sessions. Also, as a member of Global Medical Brigades, I traveled to Panama to provide healthcare to underprivileged individuals and assist in building sanitation stations in local communities.
Lastly, I have been a part of the Undergraduate Research Program at RPI over the past two semesters. Last semester, I began working with Dr. Alicia Walf in the Cognitive Science department to study the effects of mindfulness and lighting patterns on stress hormones. This semester, I continued working with Dr. Walf on a project in Alzheimer's prevention to study the correlation between a variety of behavioral and physiological tests and development of Alzheimer's Disease. I am also working with Dr. Deborah McGuinness on a project in breast cancer informatics to study the potential repurposing of existing cancer drugs for application to other cancers.